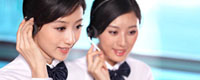 Name: Jojo Zhou
Mobile: 13713518903
E-mail: jojozhou@cable-top.com
Add: No. E05, Songbokeng Road, Qiaozi Village, Changping Town, Dongguan City, Guangdong Province, China
Skype: jojo.zhou2013
QQ: 475015709
Alibaba:



The Professional's Choice - Worldwide


Cable-top.com is the leading manufacturer of premium custom and made to order cable assemblies. Our cable manufacturing staff has more than 10 years of experience building premium custom cables by hand to your exact specifications with fast turnaround times. In fact, most orders are shipped within 20days or less. Our highly skilled cable manufacturing team manufacture tens of thousands of custom video, data and audio cable assemblies every year right here in our state-of-the-art facility. Cable-top cables are being used right now in boardrooms, homes, airports, studios, stadiums, classrooms, restaurants, government installations, houses of worship and hospitals around the world.
Unbeaten Quality & Craftsmanship
Cable-top manufactures the highest quality cable and connector products money can buy. We use only the highest quality components including 100% shielded cable, true 75 ohm and 24k gold connectors for the best picture quality possible. Besides our own famous components, we also utilize premium components from reliable suppliers. Sijinxin also cares about the environment, that's why we use RoHS compliant materials.
Testing and Quality Control
When your order is completed, each and every cable goes through rigorous computerized testing by our quality control technicians to ensure every cable works every time. That's why Comprehensive cables are the most reliable in the world.
On Time, Every Time
Meeting deadlines is critical to a job's profitability. At Cable-top, we understand that and we strive for nothing short of perfection. You can count on Shenzhen Sijinxin to deliver your custom products when you need them.
Small Minimum Quantity
At Cable-top we know you might only need small batch cable for your marketing, that's why we have small minimum quantity on almost all custom cables. Whether you need one cable or a million cables, 10 years of cable manufacturing experience is at your service. Our knowledgeable staff is ready to help you with almost any requirement.