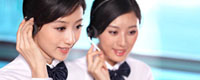 Name: Jojo Zhou
Mobile: 13713518903
E-mail: jojozhou@cable-top.com
Add: No. E05, Songbokeng Road, Qiaozi Village, Changping Town, Dongguan City, Guangdong Province, China
Skype: jojo.zhou2013
QQ: 475015709
Alibaba:



Product name : DVI male to 2*VGA female splitter cable

Item : SJX-DVISP03

Price : DVI splitter

Length/Size : 21cm

Color : Black

Conductor : Copper

Connector type : DVI&VGA

Connector color : Nickel/24k gold plated

Shielding : shielded
Details:
DVI male to 2*VGA female splitter
cable

Input: DVI male
Output: 2*VGA female
Standard VGA wire specification on request
Connector color: nickel-plated/gold plated
Shielding: aluminum +Mylar + braid
Jacket: black PVC on request
DVI splitter/cable Compliant with the RoHS Directive
High-quality DVI/VGA Plug to support EMI/RFI Testing
DVI to VGA splitter cable Supports hot-plugging and Plug-and-play
DVI/VGA plug full under mold shield helps meet FCC requirements and all covered female plug to support Good contact and not easy to be deformed
Low force helix rugged contacts offer increased lifespan cycle, mechanical and electrical reliability
VGA port support VGA/XGA/SXGA output high resolution with VGA supported LCD/LED etc. monitor.
Supports 4.95Gbps bandwith, with Analog signal;
DVI male to 2*VGA female splitter cable Ideal for high resolution play with DVI graphics card to 2 VGA port devices like HD LCD,Projector etc, and you can split video on two monitors in same time ideal for game,showing usage. And you can build school or business showing constraction with DVI cable, VGA cable&extension cable . With manufacturer 1year warranty, and value price for OEM.