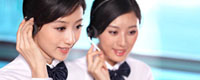 Name: Jojo Zhou
Mobile: +86-13713518903
E-mail: jojozhou@cable-top.com
Add: No. E05, Songbokeng Road, Qiaozi Village, Changping Town, Dongguan City, Guangdong Province, China
Skype: jojo.zhou2013
QQ: 475015709




Product name : VGA/SXGA /UXGA with audio Monitor Cable

Product No. : SJX-VGAWA

Price : VGA cable

Length/Size : 3-100ft

Color : Black

Conductor : Copper

Connector type : VGA/HD15

Connector color : Nickel/24k gold plated

Shielding : Triple Shielding
Details:
VGA with 3.5mm audio Monitor
cable specification:

Input: VGA HD15pin male
+3.5mm audio/stereo
Output:
VGA HD15pin male+3.5mm audio/stereo

UL Standard VGA Coax wire, specifications on request
Connector color: nickel-plated/24k gold plated
Shielding: aluminum +Mylar + braid
Jacket: black/Grey PVC on request
VGA monitor cable Compliant with the RoHS Directive; and high quality copper wire supports 100ft long distance withou ghosting and signal distortion.And good quality
ensures crisp, distortion-free video so you have maximum monitor positioning flexibility,more easy for networking.
High-quality VGA Plug and twisted pair shielded wire to protect against EMI/RFI interference.
VGA monitor cable Supports hot-plugging and Plug-and-play
VGA cable Support XGA/SXGA/UXGA high resolution with VGA supported monitor,Supports 4.95Gbps bandwith, with Analog compliant
VGA with 3.5mm audio monitor cable Ideal to
Use it for video projectors, video splitters, KVM switches within video presentations, classroom environments, POS devices, server rooms, etc. All VGA cable with one year manufacturer warranty, custom cable with value price.