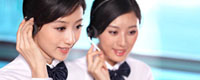 Name: Mr.Zhou
Tel: +86-755-33679261/27335044
Fax: +86-755-33938389
Mobile: 13802587939
E-mail: zhou@cable-top.com
Add: 2F,3rd Bd,3rd XinHe XinXing Park,Bao'An,Shenzhen,GD,China
QQ: 983737953
Alibaba:

Alibaba:

Alibaba:


Product name : CAB-V35FC Cisco Compatible LFH60 Male to Female DCE V35 Cable 10 ft 72-0792-01

Item : CAB-V35FC

Price : 72-0792-01

Length/Size : 3m

Color : Blue

Conductor : Copper

Connector type : CAB-V35FC

Connector color : Nickel plated

Shielding : shielded
Details:
CAB-V35FC Cisco Compatible LFH60 Male to Female DCE V35 Cable
Specification:

Reference no:
72-0792-01
Connector1:
Low Force Helix LFH60
Male
Connector2:
V.35 DCE Female
Conductor: 28AWG
Coppe
r
Length: 10FT
Color: Dark blue PVC



We offer many Cisco compatible serial cables including the CAB-V35FC shown here. These older style cables work with Cisco router modules including the 3640, 3620, 3745, 3725, 2801, 2811, 2821, 3825, 3845, 3640, 2621, 1721 and many others. The 60-PIN Low-Force Helix Serial connector is used to connect to Cisco interface cards including WIC-1T, NM-4T, and NM-4A/S. At the opposite end of this cable is the V.35 female DCE interface. The V35 connector is commonly used to interface a network router with an external CSU/DSU such as Addtran for a T1 or fractional T1 Internet or private line connection. Our guarantee covers these compatible smart serial cables under normal use for the life of the cable.