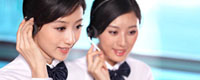 Name: Jojo Zhou
Mobile: 13713518903
E-mail: jojozhou@cable-top.com
Add: No. E05, Songbokeng Road, Qiaozi Village, Changping Town, Dongguan City, Guangdong Province, China
Skype: jojo.zhou2013
QQ: 475015709
Alibaba:



Product name : Active Micro HDMI to VGA adapter cable

Item : SJX-DHDVGA

Price : HDMI cable

Length/Size : 15cm

Color : White/Black

Conductor : Copper&PCB

Connector type : HDMI&VGA

Connector color : Nickel/24k gold plated

Shielding : Triple Shielding
Details:
Active Micro
HDMI to VGA adapter cable Specifications:
Micro HDMI type D male input
VGA HD15 female output
24k gold-plated/nickel-plated connectors
30AWG and copper conductor and length on request
Aluminum Mylar + copper braid shielded to resist EMI and RFI
With Bult-in chipset ,no need extra power for equipment
White/ black colors PVC jacket
Active Micro HDMI to VGA cable Features:

Supports 165MHz/1.65Gbps per channel (6.75Gbps all channel) bandwidth for HDMI
Supports analog video output up to 1600 x 1200 (UXGA) and 1080p with 10-bit DAC
Supports 1080i, 1080p image resolution,with active IC support
Supports plug and play,hot-plugging,
Micro HDMI to VGA cable fully supports high resolution image from Micro HDMI Pad device,mobile deliver to VGA device like LCD,Projector etc, but without audio.
and suitable for office showing.
you can find
VGA extension cable
or HDMI extension cable
to simplify your work.

This Micro HDMI to VGA adapter is a convenient and cost-effective solution for connecting your Pad and mobile to VGA monitors or projectors, or older TVs. The adapter connects to the VGA cable of your device (VGA cable not included) It features a built-in active IC chip that improves compatibility and delivers sharp picture quality.
All HDMI to VGA cable are with one year manufacturer warranty, low price for OEM products
.