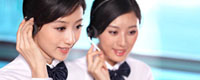 Name: Jojo Zhou
Mobile: 13713518903
E-mail: jojozhou@cable-top.com
Add: No. E05, Songbokeng Road, Qiaozi Village, Changping Town, Dongguan City, Guangdong Province, China
Skype: jojo.zhou2013
QQ: 475015709
Alibaba:



Product name : HDMI to DVI+3.5mm with audio cable

Item : SJX-HDDVI02

Price : HDMI cable

Length/Size : 1.5M

Color : Black

Conductor : Copper

Connector type : HDMI&DVI

Connector color : Nickel/24k gold plated

Shielding : Triple Shielding
Details:
HDMI to DVI+3.5mm audio cable Specifications:
HDMI1.3b
HDMI type A male input
DVI male/female+3.5mm stereo output

24k gold-plated/nickel-plated HDMI&DVI connectors

28/30AWG and copper conductor and length on request

Aluminum Mylar + copper braid shielded to resist EMI and RFI
Ferrite cores additional
HDMI to DVI with audio cable Features:
HDMI to DVI with audio cable Supports bandwidth up to 10.2Gbps maximum, with coppoer conductor to support good contact and well shielded to resist EMI/RFI.
HDMI to DVI+3.5mm cable Supports 1080i, 1080p image resolution to reach game and home theatre requirements.
Supports plug and play,hot-plugging,