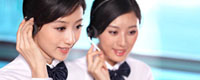 Name: Jojo Zhou
Mobile: 13713518903
E-mail: jojozhou@cable-top.com
Add: No. E05, Songbokeng Road, Qiaozi Village, Changping Town, Dongguan City, Guangdong Province, China
Skype: jojo.zhou2013
QQ: 475015709
Alibaba:



Product name : HDMI to 2*DVI splitter cable

Item : SJX-HDSPDVI

Price : HDMI cable

Length/Size : 21cm

Color : Black

Conductor : Copper

Connector type : HDMI&DVI

Connector color : Nickel/24k gold plated

Shielding : Triple Shielding
Details:
HDMI to 2*DVI splitter cable
HDMI type A male input
Dual DVI(24+1) A female output
24k gold-plated/nickel-plated connectors
28/30AWG and copper conductor and length on request
Aluminum Mylar + copper braid shielded to resist EMI and RFI
HDMI splitter cable Features:
HDMI cable Supports TMDS bandwidth up to 10.2Gbps maximum;
HDMI to DVI Splitter Supports 1080i, 1080p image resolution from your HDMI blue-ray DVD,PS3,PC etc device to split on 2 DVI monitors or LCD etc;
HDMI cable Supports HDTV, PC, DVD, PS3, cellphone, set-up box, plasma TV and more HDMI device
The high-speed HDMI to dual DVI splitter cable features 1 gold-plated HDMI (male) connectors and durable high quality construction to provide a dependable HDMI to DVI connection between devices such LCD, projectors and more. And ideal for business ,market showing with it to split from one device to two monitors in same time, with more HDMI adapter,HDMI cable,HDMI extension cable,and DVI cable&adapter etc for simple constraction. We supply one year manufacturer warranty, and competitive price!