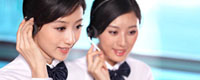 Name: Jojo Zhou
Mobile: 13713518903
E-mail: jojozhou@cable-top.com
Add: No. E05, Songbokeng Road, Qiaozi Village, Changping Town, Dongguan City, Guangdong Province, China
Skype: jojo.zhou2013
QQ: 475015709
Alibaba:



Product name : HDMI male to DVI female Adapter

Item : SJX-HD2DVIAMF

Price : HDMI adapter

Length/Size : 7cm

Color : Black

Conductor : Copper

Connector type : HDMI&DVI

Connector color : Nickel/24k gold plated

Shielding : shielded
Details:
HDMI male to DVI female Adapter
HDMI type A male input
output DVI 24+1/24+5 female
24k gold-plated/nickel-plated connectors
copper braid shielded to resist EMI and RFI
White PVC jacket
HDMI to DVI adapter Features:
HDMI adapter
Supports TMDS bandwidth up to 10.2Gbps, maximum
Supports 1080i, 1080p image resolution

HDMI gives serious home theater lovers a lot to be excited about. The format ushers in a whole new age of AV system simplicity, user-friendliness and extraordinary high definition sound and picture, and it's backwards-compatible with DVI-capable components. So if you already own high-end DVI-capable devices and want to integrate newer HDMI equipment into your system, or vice versa, you can do it quickly and easily with this HDMI to DVI adapter! And easy to get a HDMI cable or HDMI extension cable as kit to give a long distance delivery for your home theater .
All
HDMI adapters with one year manufacturer warranty, competitive price for Custom
!