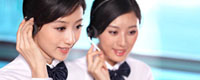 Name: Jojo Zhou
Mobile: 13713518903
E-mail: jojozhou@cable-top.com
Add: No. E05, Songbokeng Road, Qiaozi Village, Changping Town, Dongguan City, Guangdong Province, China
Skype: jojo.zhou2013
QQ: 475015709
Alibaba:



New HDMI 2.0 officially arrive
This is a classification New
HDMI2.0
standard,for details includes in HDMI2.0 for learning,and also you can see a difference between HDMI2.0 and HDMI1.4.
With few years in old
HDMI1.4
, so limited on new high resolution requirement on new HDTV generation.and compliance on the poor audio for 3D movies.People are looking to upgrade the HDMI technology. Only just after it leaked out, the folks at HDMI Licensing are announcing HDMI 2.0 officially. Arriving just in time for the wide rollout of a new generation of Ultra HDTVs, it adds a few key capabilities to the connection standard. With a bandwidth capacity of up to 18Gbps, it has enough room to carry 3,840 x 2,160(2160P)resolution video at up to 60fps
resolution which offers 4 times the clarity of 1080p/60 video resolution.
It also has support for up to 32 audio channels, "dynamic auto lipsync" and additional CEC extensions. The connector itself is unchanged, which is good for backwards compatibility but may disappoint anyone hoping for something sturdier to support all of those suddenly-popular dongles. The cables won't change either, as the group claims current high-speed Category 2 wires can handle the increased bandwidth. Some companies have suggested upgrade paths for their UHDTVs already on the market -- hopefully we'll find out more about those plans this week at IFA 2013.
Update: The HDMI Forum has listed a few more specs in its FAQ, including that HDMI 2.0 is spec'd to handle up to 1536kHz audio sample frequency, dual video streams for multiple users on a single screen, multi-stream audio to as many as 4 users at once and support for 21:9 widescreen displays.
And in same time,Panasonic, a leader in High Definition technology, unveiled today the Smart VIERA TC-L65WT600, the world's first Ultra HD TV with a 4K 60p input designed based on HDMI 2.0 and DisplayPort™1.2a specifications.
We will see how will HDMI2.0 to change a new video&audio inovation in cable ,movie ,TV etc industry, and also changes on consumer choices.