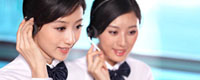 Name: Mr.Zhou
Tel: +86-755-33679261/27335044
Fax: +86-755-33938389
Mobile: 13802587939
E-mail: zhou@cable-top.com
Add: 2F,3rd Bd,3rd XinHe XinXing Park,Bao'An,Shenzhen,GD,China
QQ: 983737953
Alibaba:

Alibaba:

Alibaba:


Product name : OEM DB9 to USB+MD+terminal cable

Item : SJX-DB9other

Price : Inquiry now

Length/Size : 1m

Color : Black/Beige

Conductor : Copper

Connector type : DB9/USB/DIN/Terminal

Connector color : Nickel plated

Shielding : shielded
Details:
OEM DB9 to USB+MD+teminal serial cable

specification:
Input: DB9 male/female
Output: DB9/USB/MD/Terminal on request
Standard high quality copper conductor wire for DB9 cable, specifications on request
Connector color: nickel-plated DB9
Shielding: aluminum +drain
Jacket: black/blue/beigePVC on request
Length: 1m/on request
3 kinds of model choosable


OEM DB9 to USB+MD+teminal
serial cable
Features:
DB9 to USB/Terminal serial cable Compliant with the RoHS Directive;with Miniusb,MD,terminal it could work with POS,credit card machine,cash register etc.
High-quality DB9 ,usb,MD Plug to support good contact and salt mist.
DB9/USB/MD/Terminal plug full under mold shield helps meet FCC requirements and all covered female plug to support Good contact and not easy to be deformed.
lifespan cycle, mechanical and electrical reliability.
Choose us to OEM a DB9 with USB/MD/Terminal serial cable with required on PC,POS,industrial devices etc.