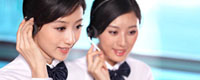 Name: Mr.Zhou
Tel: +86-755-33679261/27335044
Fax: +86-755-33938389
Mobile: 13802587939
E-mail: zhou@cable-top.com
Add: 2F,3rd Bd,3rd XinHe XinXing Park,Bao'An,Shenzhen,GD,China
QQ: 983737953
Alibaba:

Alibaba:

Alibaba:


Product name : Mini Displayport to VGA adapter cable-M/F

Item : SJX-MDPTVGA01

Price : Displayport cable

Length/Size : 21cm

Color : White

Conductor : Copper&PCB

Connector type : Displayport&VGA

Connector color : Nickel/24k gold plated

Shielding : Triple Shielding
Details:
Mini Displayport to VGA adapter cable
Input: Mini Displayport male

Output: VGA female
Optional 24K gold/nickel plating
Colors: black/white ABS shell with unique des
Latching design available
Conductor: 28AWG copper/on request
Aluminum + My + Braid shield

Mini Displayport to VGA cable Features:
Displayport cable
Supports switch digital video to analog signal bandwidth up to 4.4Gpbs.
Supports
VGA,XGA,SXGA,UXGA
image resolution.
With high quality Chipset, this mini Displayport to adapter can delivery high resolution video without extra power from your Mac. Mac airbook etc, give high resolution support on other VGA supported devices like LCD,PC.