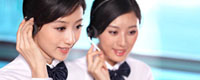 Name: Mr.Zhou
Tel: +86-755-33679261/27335044
Fax: +86-755-33938389
Mobile: 13802587939
E-mail: zhou@cable-top.com
Add: 2F,3rd Bd,3rd XinHe XinXing Park,Bao'An,Shenzhen,GD,China
QQ: 983737953
Alibaba:

Alibaba:

Alibaba:


Product name : OEM VGA to USB+3.5MM+LVDS KVM cable

Item : SJX-KVMT

Price : Inquiry now

Length/Size : 1.5M

Color : On request

Conductor : Copper

Connector type : VGA&PS/2&USB&terminal

Connector color : Nickel plated

Shielding : shielded
Details:
OEM VGA+USB+3.5mm+LVDS KVM
cable with termainal specification:
Input: 6/10pin LVDS terminal on request
Output: VGA HD15pin/USB/3.5mm audio on request
Standard VGA Coax wire, specifications on request
Connector color: nickel-plated VGA/3.5mm/USB
Shielding: aluminum +Mylar + braid
Jacket: black/Grey PVC on request
Length: 1m/on reques
t
2kinds of Model for VGA connector


OEM VGA+USB+3.5mm audio KVM
cable with LVDS termainal
Features:

KVM cable with LVDS Compliant with the RoHS Directive;the LVDS terminal could support on lots of outdoor LCD monitor
High-quality VGA+USB+3.5MM +LVDS Plug to support EMI/RFI Testing.
KVM cable with LVDS terminal
Supports hot-plugging and Plug-and-play
VGA/USB/3.5mm Audio/LVDS plug full under mold shield helps meet FCC requirements and all covered female plug to support Good contact and not easy to be deformed
Low force helix rugged contacts offer increased lifespan cycle, mechanical and electrical reliability

OEM KVM cable
Support max 2048*1536 resolution with VGA supported monitor

KVM cable with LVDS terminal
Ideal for high resolution play with VGA/USB/3.5mm port devices like PC,Server, LCD,Projector ,KVM Switch,KVM extender etc.

Profesional
OEM manufacturer for your KVM cable
solutions, with best price and competitive price.